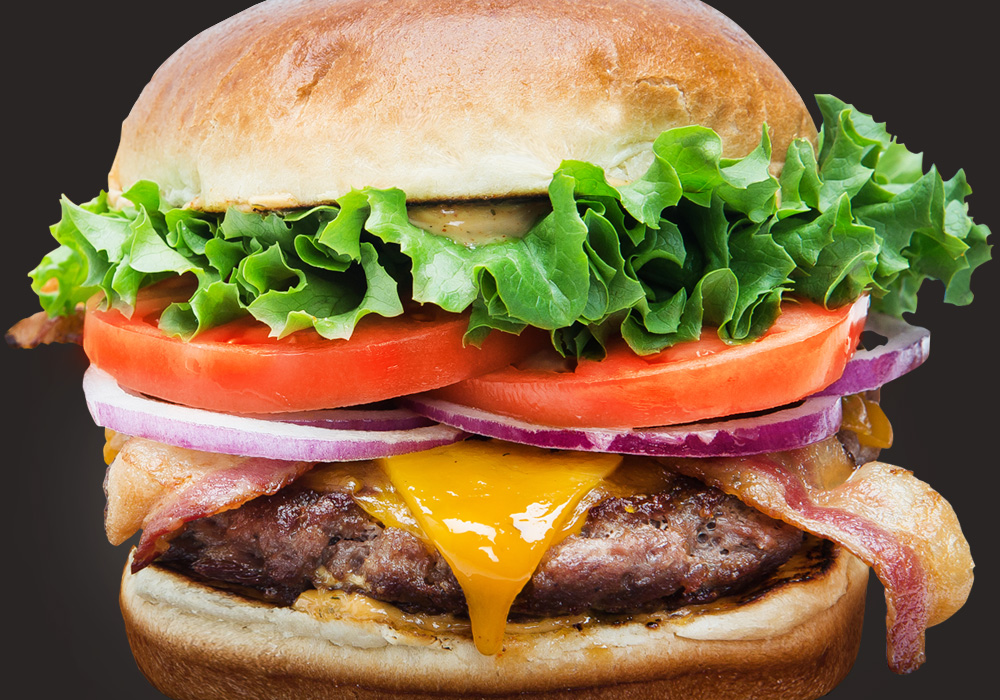 ---
Our Burgers
Are Top Cheddar!
Voted Most Delicious Player
OUR SIGNATURE PATTIES ARE ALL NATURAL, HORMONE FREE, ANTIBIOTIC FREE, GLUTEN FREE 100% ALBERTA BEEF CHUCK, seasoned to perfection, and smashed to order. Try one of our all-star burgers, or build your own with all your favourite ingredients.
The All-Stars
The Great One
Two of our signature beef patties, double cheddar, double bacon, caramelized onions, a fried egg, and house mayo served between two grilled cheese sandwiches… there's a reason it's called The Great One!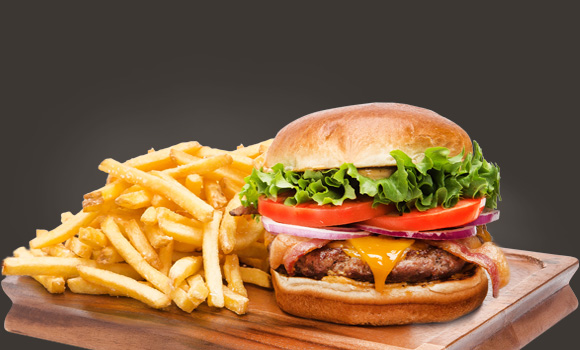 Bacon Cheeseburger
A pretzel bun loaded with our signature beef patty, cheddar cheese, bacon, lettuce, tomatoes, red onions, and house mayo.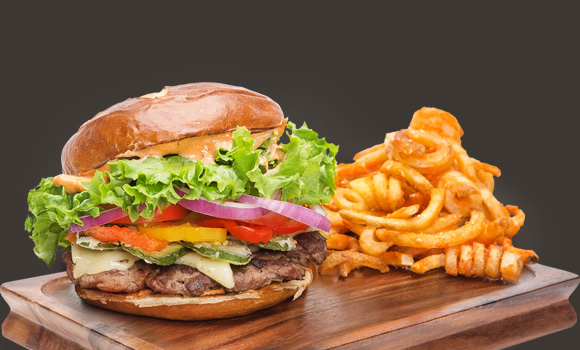 The Heat
Our signature beef patty, inferno mayo, jalapeño jack cheese, banana peppers, spicy onion tanglers, lettuce, and tomatoes on a black pepper bun. Finished with a cheese stuffed jalapeño.
Full Burger Menu
Build It Your Way!
Don't like to play by the rules? Build your own burger from a roster of over 50 ingredients and make it exactly the way you love it.
Think your burger's a superstar?
Email the recipe to yourself for later!
Bun Styles

Pretzel Bun
Onion Bun
Gluten-Free Bun 2.00
No Bun
Black Pepper
Lettuce Wrap
Focaccia
Cheese Bun
Brioche Bun

Pick Your Patty

Signature Beef Patty
Beyond Meat Patty 3.00
Beer Battered Cod 2.75
Grilled Chicken Breast
Turkey Patty 3.00
Crispy Chicken 3.25
Extra Signature Beef Patty 5.25

Pick Your Cheese

Cheddar
Swiss
American
Crumbled Blue Cheese
Feta
Mozzarella
Jalapeño Jack

Topping Options

Lettuce
Banana Peppers
Alfalfa Sprouts
Black Olives
Tomatoes
Pickled Jalapeños
Sauerkraut
Red Onions
Garlic Hummus
Coleslaw
Two Pickle Slices
Green Peppers

Premium Topping Options

Caramelized Onions
Crispy Fried Onions
Donair Meat
Sautéed Mushrooms
Guacamole
Avocado
Mushroom Gravy
Fried Egg
Mac & Cheese Patty 2.50
Crumbled Mild Chorizo
Two Strips of Bacon
Canadian All Beef Hotdog 2.50

Get Your Sauce

Mayonnaise
House Mayo
Inferno Mayo
Roasted Garlic Mayo
Ranch
Tartar
Tzatziki
Green Relish
Honey Mustard
Dijon Mustard
Thousand Island
Garlic Parmesan
Buffalo Garlic Parmesan
Buffalo
Donair Sweet Sauce
Extreme BBQ
Coca-Cola BBQ
Whisky BBQ
Smoky BBQ
Teriyaki
Sweet Chili