---
Draughted
first Overall.
Every night starts with
a first round.
With over 75 brands of beer and various rotational taps, 1ST RND has one of the largest and most diverse beer lists in Canada. We take our beer seriously, which is why we had our draft beer system custom built to serve you the freshest, and coldest pint every time.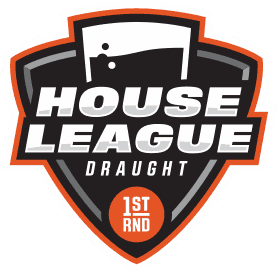 A League of our own.
Try one of our exclusive 1ST RND beers. Each one is proudly and locally brewed just for us right here in Alberta.
1ST RND Lager
Lager – Canada – 12 IBU
1ST RND IPA
IPA – Canada – 50 IBU
1ST RND Seasonal
Ask your server about this season's selection!
1ST RND Hefeweizen
Hefeweizen – Canada – 13 IBU
1st Rnd Beer 101
Our draft beer system was designed and installed by locally owned and operated Newton's Draft Beer Equipment, nationally recognized as the premier installer of draft beer dispensing equipment in Canada. Our draft beer system is custom designed to consistently deliver a fresh, cold, high-quality product, with all the natural flavor and aromas envisioned by the brewer.
The Power Pak
This is the workhorse of the beer dispensing system. The Power Pak plays a vital role in maintaining a constant temperature from keg to tap, ensuring a consistent pour. Our 1 ½ HP unit uses a modern heat exchanger to cool the beer, which provides a much more energy-efficient cold beer than the old glycol bath cooling units. This state-of-the-art technology is one of the reasons we pour the best pint every time.
Tapping Equipment
This equipment connects the kegged beer to the draft system. Our beer lines are individually gas regulated, and any beer connections are made with only the highest-quality stainless components. By eliminating plastic components and only using stainless products, we ensure our beer tastes exactly how the brewer intended, each and every time.
The Trunk Housing
The housing routes beer lines from the cooler keg to the dispensing head. But not all trunk housings are created equally, which is why we used Newton's custom engineering. Our beer lines are vapour-sealed to coolant lines for the entire length of the beer system.
Dispensing Towers
The towers are engineered to deliver a cold product every time. Insulated dispensing heads, combined with pure copper coolant lines and a cast-in-place aluminum cold block, maintain chilled beverage temperatures right up to the faucet. Specially balanced restrictors control flow and ensure a perfect beer with every pour.
That's how we always pour the best first round in the business.